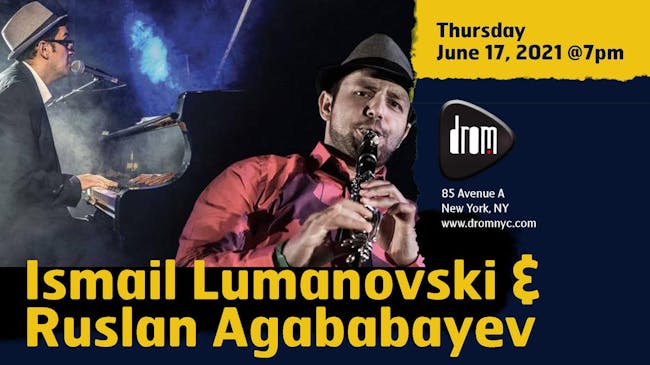 Ismail Lumanovski & Ruslan Agababayev
Ismail Lumanovski & Ruslan Agababayev live at DROM!
Ismail Lumanovski
The extraordinary clarinetist Ismail Lumanovski is a musical force of passion and dynamic virtuosity. Already of international distinction, Lumanovki has launched a major career as a soloist, chamber musician in both classical and cross-over repertoire. His synergistic blend of natural talent and training combines the spirit of folk music with the discipline of classical music.
Lumanovski's performances throughout the United States, Europe, the Middle East, Korea and China have received critical acclaim. Taking the stage in countless venues including: Rathaus (Vienna), Carnegie Hall (New York City), SummerStage (New York City), Salle Pleyel (Paris), Emirates Palace (Abu Dhabi) American University (Dubai), Expo 2012 Yeosu (Korea), Kartaj (Tunis), Meb Sura Salonu (Ankara) Kenedy Center (Washington), Peter Jay Sharp Theatre (New York), Beijing Concert Hall (Beijing), Berklee Perfomance Center (Boston), Luzerner Saal (Luzern) and Severance Hall (Cleveland), Lumanovski has mesmerized audiences across the globe. He is proud to have participated in the New York début of the Carter Clarinet Concerto with musicians from New Juilliard Ensemble and the Lucerne Festival Academy with Maestro Boulez.
He is the winner of numerous competitions including: 1st prize of the 23rd, 24th and 25th Clarinet Competition of Macedonia, The Juilliard Clarinet Concerto Competition, the International Young Artist Competition in Bulgaria, the National Folk Music Competition in Macedonia and the Andreas Makris Clarinet Competition in Colorado. Additionally, Lumanovski received the "Fine Arts Award" twice at the Interlochen Arts Academy. Most recently, he took 1st prize at the Arriaga Chamber music competition.
His performances have been widely reviewed. The New York Times wrote of his work under Pierre Boulez, "the soloist — the brilliant, fearless young clarinetist Ismail Lumanovski — aligned himself with various instrumental contingents of the large ensemble".
Born in Bitola, Macedonia, Lumanovski started playing the clarinet at age eight. His United States debut performance of Weber's First Clarinet Concerto in Interlochen, Michigan was in 2002. He holds a Bachelor of Music Degree and Master of Music Degree from the Juilliard School of Music in New York. He studied with Charles Neidich and Ayako Oshima. While at Juilliard Mr. Lumanovski has been a recipient of the Satterhwaite Scholarship, the Benjamin and Hadassah Michtom Scholarship and the Martha Dwight Douglas Memorial Scholarship.
Professionally, Lumanovski has had the privilege to perform with innumerable extraordinary musicians and orchestras including: Die Deutsche Kammerphilharmonie, The Berklee Middle Eastern Fusion Ensemble, New Juilliard Ensemble, World Youth Symphony Orchestra, The Palestine Youth Orchestra, Lucerne Festival Orchestra, Macedonian Philharmonic Orchestra, Marcel Khalife, Al Di Meola, Husnu Senlendirici, Selloane Nkhela, Zulfu Livaneli etc. Lumanovski is also a master improviser and performer of Macedonian, Turkish and Gypsy music and is presently touring with the renowned New York Gypsy All-Stars, playing throughout the United States, Europe, and Asia. This jazz influenced fusion and folk music group exemplifies Lumannovski's fantastic originality. His sound blends Balkan folk music and western classical music with breathtaking dexterity, musicality and tenacity, lending his style a gratifying complexity. Of his performance with the All-Stars, Lumanovski plays a "blistering series of haunting dance numbers" (Lucid Culture Blog). Lumanovski's playing may be heard on his recordings with the New York Gypsy All-Stars, Secret Trio, Fall of the Moon, Liquid Clarinets and Love is the Way.
Ruslan Agababayev
Ruslan Agababayev was born in 1976 in Baku, Azerbaijan where from an early age he showed a comprehensive musical talent. After graduating from Baku Music Academy, he continued his education in the US and received his Master's Degree in Composition from New School University. Among his teachers were great musicianssuch as distinguished Professors Elmira Safarova, David Deltredici, Olga Homenchuk, Robson Yefraimov, David Loeb and Ron Carter. While in Azerbaijan, Mr. Agababayevhas toured extensively throughout the former Soviet Union, Europe and U.S. where hiscompositions were well received. Ruslan performed and shared the stage with suchlegendary musicians as Toots Thielemans, Teddy Charles, Ron Carter, etc.
Among Ruslan's compositions are pieces for symphony orchestra and smaller chamber groups, vocal music and compositions for jazz ensembles. Ruslan's monumental composition, Cantata "Greetings to Heydarbaba" that he wrote for Azerbaijan State Symphony Orchestra and choir capella was performed at the closing ceremony of Fourth International Mugham Festival on March 18 th , 2015 in Baku, and brought him international recognition. The piece is based on the poem of legendary Azerbaijani poet Shahriyar, and consists of 6 movements. In this piece Ruslan combined classical music with Azerbaijani mugham. By unifying incredibly rich colors of ethnic music from all around the world with classical Music, Mugam and Jazz, Ruslan is creating unique atmosphere.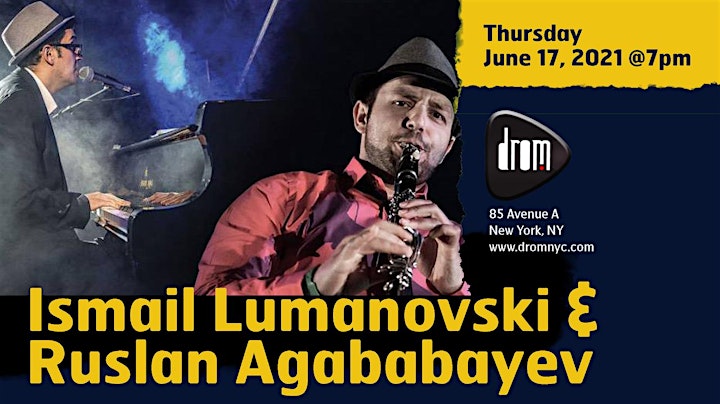 Venue Information:
DROM
85 Avenue A

New York, NY, 10009