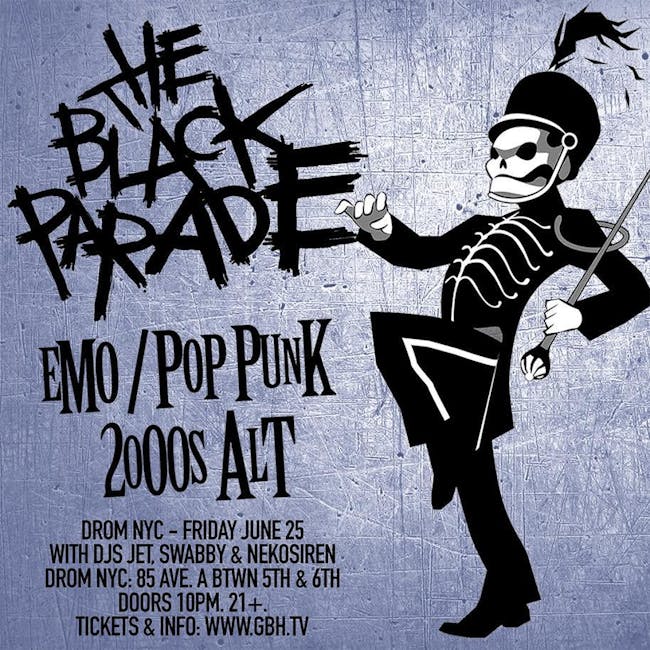 THE BLACK PARADE
The Black Parade Is Back. A Night Of Emo, Pop Punk & 2000s Alt in NYC.
------------------------------------------THE BLACK PARADE [Emo & Pop Punk]
Jet, Swabby & Nekosiren play all the songs you love by the likes of Fall Out Boy * Yellowcard, Jimmy Eat World * My Chemical Romance * All Time Low * New Found Glory * Blink 182 * AFI, Panic! At The Disco * Good Charlotte * Falling in Reverse * A Day To Remember * Paramore & much more! Requests Welcome!
It's all going down at Drom in Manhattan's East Village. This will be a 21+ event and the party starts at 10pm-3:30am.
------------------------------------------
All precautions will be taken to keep everyone safe. Temperatures will be checked at the door. Tickets are very limited in order to maintain social distancing. You must wear a mask for entry. We will have enough seating for all. You must wear a mask unless you are at a table. You will be allowed to dance near your table but we ask you to remain 6' from people not in your group. If you leave your table, you must put your mask back on. According to NY regulations, a food purchase will be required if you are buying drinks (menu can be viewed here).
Venue Information:
DROM
85 Avenue A

New York, NY, 10009