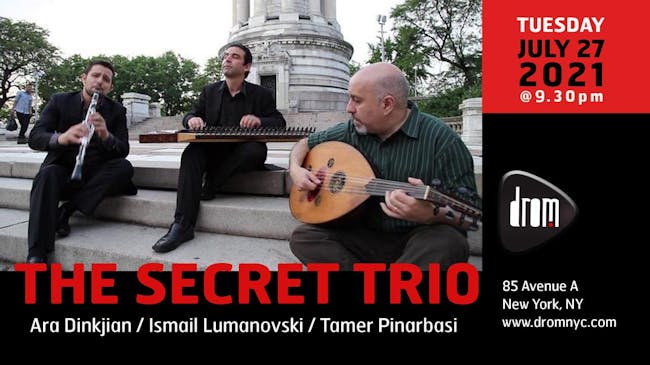 The Secret Trio live @ DROM!
Secret Trio brings their unique fusion of Balkan and Middle Eastern music to DROM
These three extraordinary musicians rooted in Turkish, Armenian and Macedonian Roma music come together to create a new type of chamber music. Not bound by a single tradition, they perform original pieces and traditional melodies that incorporate the microtonal modes and improvisation of the Middle East, dance beats of the Balkans, and elements of jazz, rock, and classical music.
The trio features Tamer Pinarbasi, a leading kanun (zither) player and a member of the New York Gypsy All-Stars; Ismail Lumanovski, a master clarinetist born in Bitola, Macedonia, who was lauded in the New York Times as a "brilliant, fearless young clarinetist" and has launched a major career as a soloist and a chamber musician in both the classical and cross-over repertoires; and Ara Dinkjian, one of the world's top oud players, who is best known as the founder of the highly influential and groundbreaking instrumental group Night Ark.
"mesmerizing" Village Voice
"a delightful fusion that breaks out of the box" Time Out New York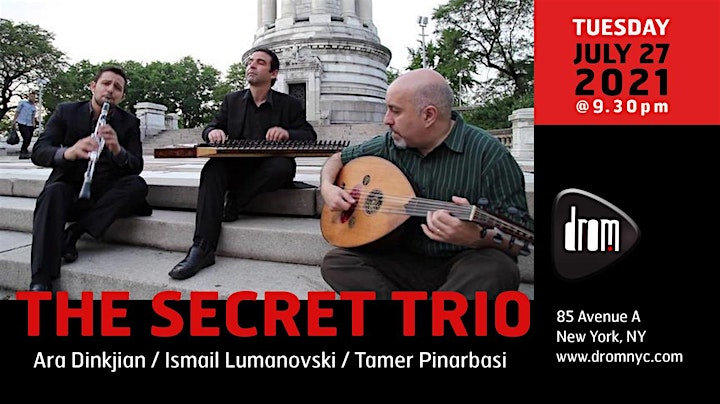 Venue Information:
DROM
85 Avenue A

New York, NY, 10009